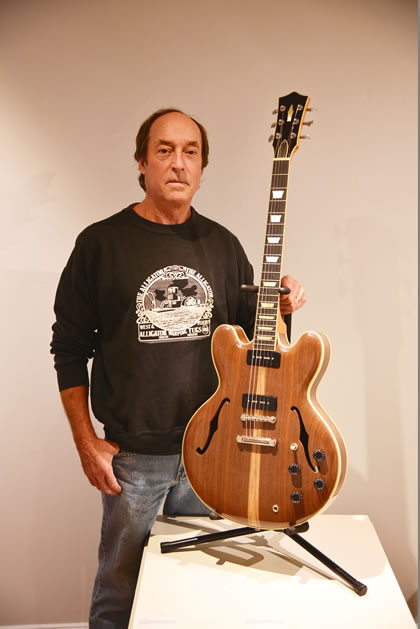 Born in Simcoe Ontario in 1958. My favorite class in public school was woodworking( thank you Mr Milne).Got my first guitar at age 12 ( thank you Paul Pope ).
Graduated forestry school in 1985.Worked with M.N.R. for three years in northern Ontario.
Moved back to Simcoe in 1988 and rented an apartment with my wife to be. Her father had a small woodworking shop and we had very little furniture so I jumped at the chance to build some. One project led to another when I was commissioned to build a piece for someone and my career as a woodworker began.
My wife and I bought a house in the country in 1989. We built a workshop the next year and I continued cabinet building and carpentry work.
Then in 1997 I found a book on guitar building. At that time I was working more as an on-site carpenter so my workshop was more available and I set out to build a guitar in my spare time. I spent the next 2 years learning some chops, finding the right materials and tools, reading more books, sourcing out suppliers…, it was an exciting time.
After those first two years I had two guitars strung up. They were O.K. and still are.
By then I had the itch. I just had to build another, then another, and then someone offered to buy my third guitar then my fourth. By then I was obsessed. Trouble was working as a carpenter 8-10 hrs. a day didn't leave me a lot of spare time but I kept building guitars whenever I could.
When I got laid off from the carpentry work in the winter of 2005 I had a couple of guitar builds on the go, so, I decided to quit the carpentry work and really focus on guitar making and repairing. I'm glad I made that decision when I did and now I feel very fortunate to do what I like best.